show / hide sidebar
Blog
Holiday Gifts For The Triathlete Who Has Everything
Christmas is less than 30 days away and shopping is in full swing! So what do you buy the triathlete in your life? Especially when they have everything? Here is a list of the perfect gift ideas!
Triathlon Necklace & Earrings She will love a little something sparkly under the tree this year.... Our jewelry is a great way to commemorate all the hard work they put in to reach their goals.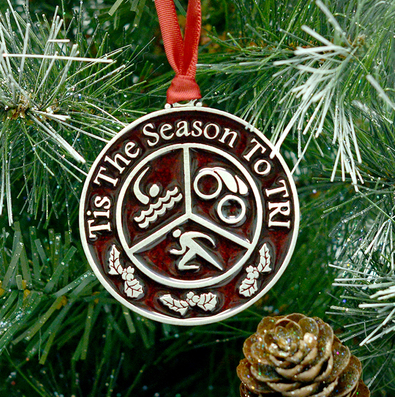 Tis' The Season To Tri Ornament A perfect addition to the tree and a great reminder of what you or your loved one accomplished
Naughty or Nice Socks If you can't decide if they've been naughty or nice, this is the perfect gift. Not just for running, these are great for walking, cycling, tennis, hiking, and more.
Leggings and Bra Top Set Run the galaxy in this red sky design. Perfect for your space-loving runners, this set can be worn running, at the gym, or yoga class.
Moo Motion Tri-Kit We just recently added Moo Motion to our retail store and now our online store! Stay stylish AND comfortable while training for your next triathlon.
I Tri Hoodie Think of this hoodie as inspiration you wear and as a reminder for WHY you do triathlons! A polyester cotton blend, our hoodies do not fade.
Garmin Varia Smart Tail Light Stay safe while cycling, especially now that we have shorter days. Paired with the Edge Bike computer (sold separately) to change brightness while you stay visible.
Road Cycling Shoes Pick the perfect pair of cycling shoes for your loved one.
Night Running Lights Early morning or late evening runs can mean running dark. Help your favorite runner stay safe with these running lights for their shoes.
On any jewelry order from Milestones Running & Triathlon, you will receive a FREE gift box! You also receive free shipping on orders of $25 or more.
comments powered by

Disqus